Biomedical Sciences: A Program Review
There is a lot of buzz around Biomedical Science programs and many schools have recently entered the field. In this month's webcast, Gray decided to take a deeper dive to see if all the hype is justified. What we found was somewhat surprising…students are showing interest in the program…but will they be able to find jobs when they graduate?
Using our data analytics software (Program Evaluation System or PES for short), we looked at demand trends, employment opportunities, and competition for Biomedical Science programs using the PES Program Scorecard.
Let's start with Student Demand:
Overall demand for the program looks good. PES tracks Inquiries and Google Search volumes by program to gauge interest among prospective students. Biomedical Science ranks in the 70th percentile on both of these metrics. But a note of caution; interest may be slowing down, as year-over-year growth in both inquiries and Google searches was lower than that of most other programs (40th percentile). But the good news is completions are strong and growing. With over 7,500 completions in 2017, the program ranks in the 90th percentile for completion volumes, and in the 95th percentile for unit growth in completions.
Next, we looked at the competition:
In general, the program appears to have room for additional competitors and is safe from online competition. Only 190 institutions reported completions in the program in 2017, a fairly small number compared to many other programs. Even with 19 new competitors reporting completions in the last year alone, the average and median program sizes are healthy and managed to grow slightly despite the new entrants. As for online competition, this program appears to be relatively safe from large online competitors, as only nine institutions currently offer the program online, accounting for just 1% of 2017 completions.
The last scorecard section we looked at was Employment Opportunities: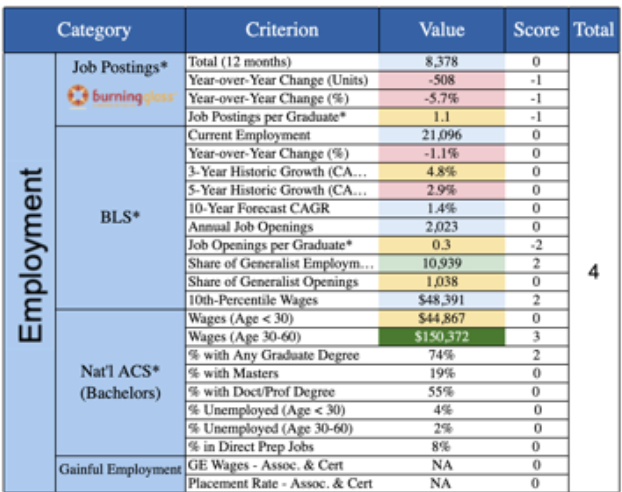 Here is where it gets interesting. While the overall number of job postings is solid, in the 70th percentile for all programs, year-over-year job postings were down. Further, with only 1.1 job postings per graduate, there will be plenty of competition for jobs in this market. The good news is that if you do get a job in this field, it will pay very well. National ACS wages for experienced workers (Age 30-60) are over $150,000.
In summary, the outlook for Biomedical Science programs from a market perspective is positive, but institutions should proceed with caution. Student demand for the program is relatively strong compared to other programs, competition is not too intense, and the program is relatively safe from online competition. The big challenge, however, is related to employment opportunities. With limited jobs for graduates directly related to the field, setting student expectations will be critical to program success.